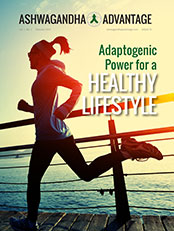 Digital Report: Adaptogenic Power for a Healthy Lifestyle, "Ashwagandha in America: Ayurveda Meets the New Millennium"
Long coveted as an Ayurvedic remedy, ashwagandha is gaining more attention in mainstream markets due to consumer education and the support of a vast range of clinical studies. This report takes you beyond what we know today and helps your business envision where the market for this multi-faceted herb is headed.
About AshwagandhaAdvantage.com
AshwagandhaAdvantage.com is designed to deliver information on this powerful Indian adaptogenic botanical, supplying clinical study results, formulation guidance, sourcing information and more. The site is sponsored by KSM-66 Ashwagandha and brought to you by SupplySide.